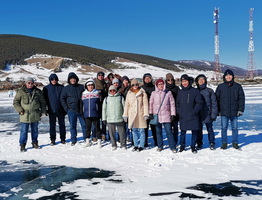 On March 16-21, 2023, the X International Workshop "Critical infrastructures in the digital world" (IWCI - 2023) took place. Organizers of the seminar: Institute of Energy Systems. L.A. Melentiev SB RAS and ANO "Institute of Information Technologies and Cybersecurity".
The seminar was held in Bolshoe Goloustnoye village, about 60 people took part in it. (including co-authors), including 34 people - with face-to-face reports, 7 - with remote reports. 42 reports were made in five sections (mostly in English), 20 of them were by young scientists, three round tables and discussions were held.
7 cities (Irkutsk, Moscow, Minsk, Novosibirsk, Angarsk, Ufa, Khanty-Mansiysk) and 12 organizations and universities of Russia and Belarus were represented, and postgraduate students from Vietnam made presentations at one of the sections.
The director of the Institute of Computational Mathematics and Mathematical Geophysics of the Siberian Branch of the Russian Academy of Sciences, Ph.D. Marchenko M.A. (Novosibirsk) and director of the Yugorsk Research Institute of Information Technologies, Doctor of Technical Sciences. Melnikov A.V. (Khanty-Mansiysk). The issues of creating digital twins, the use of artificial intelligence systems and machine learning methods, as well as the proposed by A.V. Melnikov the idea of integrating specialists to create an ecosystem of knowledge.
On-line presentations were made at the round tables by E.Z. Zinder (Moscow), methodological leader of the National Association of Enterprise Architects, one of the authors and title editor of a monograph on the design of e-government in Russia, based on the materials of his book "Multidimensional time and problems of digital transformations", as well as a leading employee of the Institute of Energy of the National Academy of Sciences of Belarus ( Minsk), Doctor of Economics Zorina T.G. with the report "Methodological approaches to assessing the level of digital transformation of the Belarusian energy sector".
The participants approved the theme and form of the international seminar, its importance and usefulness, especially for young scientists, and recommended continuing its work.